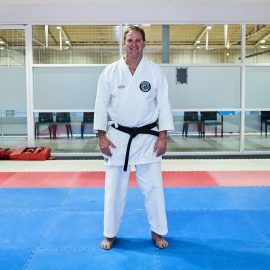 Tony Smith
7th Dan - Head Instructor
7th Dan - Head Instructor Tony started his training in 1978 with Yoseikan Budo under Head Instructor Yoshiaki Unno. During this time he has had many great accomplishments. Tony Smith competed at State and National tournaments, he then decided to take a different pathway and became involved in Refereeing. Tony became the first World Referee in WA and was Chairman of the State Referee Council and member of the National Referee Council. Tony has mentored other officials to all levels State & Nationally. His own children have all been and some are still involved in training and have competed at State, National and International tournaments. After a number of years Refereeing Tony Smith decided to change direction and became a State Coach for Kata and Kumite and is still very involved in this position. Tony is also a member of the State Selection Committee. Tony started his teaching in Greenwood and then expanded to have clubs in Kingsley, Ellenbrook, Scarborough & Kingsway. He finds teaching of all ages very rewarding, be it for fitness, self defence or tournament training. At our Kingsway club we have students whose parents started training with Tony when they were in Primary School, this makes for a very family orientated environment which is enjoyable.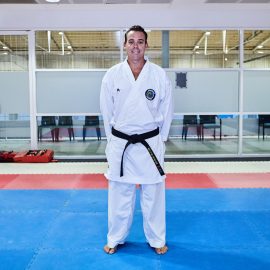 Justin Dowell
6th Dan
Justin started his karate training with Tony Smith in 1982 at the age of 5. He was awarded his 5th Dan in 2012. During his junior years he competed at State and National tournaments. Justin began refereeing sports karate as a junior and is currently an Oceania level official. Justin has been a member of the State Referee Council for the past 10 years. In 2011 he was appointed the Chairman of the Sate Referee Council, a position which he still holds. Justin enjoys helping people to learn Karate and to discover their potential whether it is in the dojo or in sports Karate. He is a firm believer that 'hard work does pay off' and that you will get back from Karate what you put in. As with all our Instructors Justin is Bronze Dojo Accredited Coach with a Working With Children Clearance.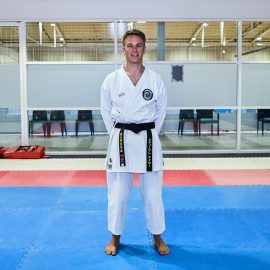 Steve Taylor
5th Dan
Steven took up karate at the age of 8. He trained with Michael Tester in the English Korean Karate Association (EKKA) achieving the grade of Black Belt in 1989 at the age of 12. Steven then went on to progress through the Dan grades training alongside Mick Blackwell and Billy Brennan. He was awarded his 4th Dan in 2006. Steven started teaching in 1992 when he became an assistant instructor for the karate clubs run by Michael Tester. He then went on to run his own clubs in Framlingham and Debenham UK from 1999 to 2009 and became an association referee. Over the years Steven has won many competitions and trophies on a national and international level including silver for individual Kumite and team Kumite in the Gold Coast Classic USA 1994 and gold in the UK national MAI League competitions for Kata in 1994 and 1995. He was the EKKA national Kata champion from 2002 - 2005. Steven moved to Australia in 2009 and at the recommendation of Billy Brennan started training with Tony Smith. Steven is dedicated and committed instructor and coaches at most local competitions. In 2014/15/16 Steven was the team manager for the Western Australian karate team. He enjoys seeing his students progress and hopefully achieve as much if not more than he has.